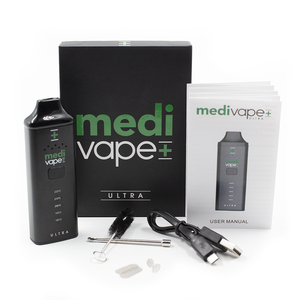 Herbal Vapes Are IN!
We're sure by now you've heard allll about the herbal vaping craze taking international cannabis communities by storm. We're excited to stock a decent range of entry level handheld dry herb vaporisers! 
Coming in hot we have our cheapest vape - The HEBE Titan 2.
The HEBE Titan-II Vaporizer is a robust vaporizing instrument featuring an intuitive temperature control system. It offers a wide-mouth heating chamber for easy loading and cleaning and features a durable and rugged rubberized exterior.
Memory function: Hebe Vaporizer features a memory function, which means it will memorize the setting temperature you selected last time, so when you start to vape again, you don't need to repeat the temperature-setting process.
Specifications:
Dry herbs
Adjustable Temperature
Timer Protection
Digital display for Temperature and Battery State
Battery capacity of 2200mah.
Features:
Inserted iron oxide red silicone band of white latex to avoid heating of mouthpiece.
Titan II Vaporizer has a double circulation heating system and ventilation holes on both the left and right sides of the vaporizer.
LCD screen shows the remaining capacity of the battery and temperature increment by 1 degree from 200- 428F.
Change between Fahrenheit and Celsius.
Returns to the last temperature you used last.
Includes:
Hebe TITAN II Vaporizer
User Manual
USB Micro charging cable
Clear cleaning brush
5pcs Spare Mouth Filters
2pcs Black Long Silicone Mouth Protector Caps
Secondly we introduce MEDI VAPE ULTRA. Designed for medicinal use, this handy on-the-go vape pen will really give you ya bang for buck. The MediVape+ ULTRA is the latest compact dry herb vaporiser that fits discreetly into the palm of your hand.
It uses an embedded ceramic convection chamber  and advanced temperature controls, which can be adjusted from 180C to 224C to produce pure and flavourful vapour. With a fast heat up time, micro USB charging and draw activated technology, it's easy and uncomplicated to use.
MediVape+ ULTRA Features:
Pre-set temperature controls
Sleek & discreet design
Ceramic chamber for optimal flavour
Convection oven for even heating
Lock/unlock function
Micro USB charging
Magnetic mouthpiece with changeable screens
fast heat up to max temp
Solid build with advanced airflow ventilation
Not suitable? Prepare for a novel about our next contester.... The Arizer Solo Vaporiser.  Simple, powerful and efficient.
Made by the same people behind the Extreme Q, the Arizer Solo Vaporizer uses a fast-heating ceramic element and borosilicate glass draw stem to deliver some of the cleanest cloud on the market. Seven temperature settings put you in total control, with a long-lasting lithium battery for big sessions. Vapour quality is unprecedented, with the Arizer Solo promising smooth, thick clouds. While the design is relatively simple, the award-winning Arizer Solo is one of the best portable vaporizers on the market. From laid-back draws in the living room to star-spangled sessions around the campfire, the Arizer Solo delivers on all fronts. 
Ceramic heating element with stainless steel bowl

Durable anodised aluminium exterior

Borosilicate glass draw stem

Excellent vapour quality

Easy-to-use temperature control with 7 settings

Maximum temperature of 210°C

Ergonomic design with futuristic styling 

Designed and manufactured in Canada
Borosilicate glass draw stems
For vapers that like their cloud smooth and flavourful, the Arizer Solo delivers. Vapour is inhaled through a borosilicate glass stem that preserves flavour and delivers clean, ultra-tasty cloud. While the glass stem promises some of the cleanest cloud on the market it does affect portability, making the Arizer Solo perfect for at-home use or for vapers ready to exercise a little extra TLC on-the-go. 
High quality build
Under the hood of the Arizer Solo Vaporizer you'll find a ceramic heater, stainless steel oven and glass stem. The use of premium materials translates to premium cloud, making the Solo a favourite with connoisseur-level vapers.  
Powerful hybrid heating system
The Arizer Solo uses a hybrid conduction/convection heating system to extract the potentially therapeutic properties of your flower. Hot air is gently circulated through the chamber to preserve flavour and potency, with a subtle blast of conduction to speed things up. 
Extra wide aromatherapy chamber
A spacious chamber allows plenty of air to flow through the Arizer Solo and maximise vapour yield. For enthusiasts chasing robust and flavourful cloud without a huge amount of draw resistance, this is a big plus. 
Multipurpose use
As well as extracting goodness from dry herb, the Arizer Solo can be used as an herbal steamer, essential oil diffuser, citronella warmer, aromatherapy device and deodoriser. Fill the chamber with scented beads, vape fresh herbs from the garden or use to burn incense. 
Advanced temperature control system
The Arizer Solo features 7 built in temperature settings that make it easy to hit the sweet spot of your botanicals. Keep things cool and mellow at 50°C or turn up the heat for hard hitting flavour and potency. The device takes around 2.5 minutes to hit its maximum temperature of 210°C. LED lights indicate what setting the Solo is targeting.  
Easy to use, intuitive design
Simplicity is front of mind, with two buttons used to flick through the temperature settings. The ergonomic design fits snug in the palm of the hand and features a futuristic design. The simple two-piece design makes the Solo a cinch to clean and requires virtually zero maintenance. 
Long battery life
Designed for leisurely sessions, the Arizer Solo offers an impressive 2 hours of continuous vaping when used at low temperatures. It can also be used while plugged in, so long as the battery doesn't slip below 25%. Automatic shutoff preserves battery life and keeps the Arizer Solo juiced up for the next session. There's also an optional charging dock for added style and convenience. 
Arizer Solo Vaporizer Specifications:
Manufacturer: Arizer

Designed in:

 

Canada
Made in:

 

China

Device Dimensions: 11.4cm Height | 4.4cm Diameter

Materials: Stainless steel, glass stems, anodized exterior

Heating Element: Ceramic / Stainless steel

Heating Time: ~2 minutes

Temperature Range: 50°C-210°C

Temperature Control: 7 Pre-set temperatures

Battery: Lithium-Ion

Charger: AC adapter

Car Charger: Sold separately

Passthrough: Yes

Automatic Shut off: 12 minutes

Warranty:  2 Years
About Arizer
Born and bred in Canada, Arizer knows a thing or two about the art of dry herb vaping. The company is passionate about developing original, innovative vaporisers manufactured with the highest quality components. Arizer has a stellar track record for durability and dependence, with all devices manufactured to ISO Quality Standards. The award-winning designs cover all bases, ranging from pocket-sized devices to mammoth desktop units. All models follow the signature Arizer script, promising power, performance and hard hitting vapour. 
Arizer Solo Vaporizer - What's in the Box:
The Arizer Solo Vaporizer Full Kit comes with everything you need to get started with the award-winning, Canadian-made device. There are plenty of accessories to play around with, including bent glass stems, aroma tubes and potpourri dishes. Additional mesh screens are HIGHLY recommended to prevent herb particles from being drawn up through the stem during sessions. 
1 x Arizer Solo vaporizer - AU plug

1 x Bent glass stem

1 x Straight glass stem

1 x Potpourri Glass Bowl

1 x AC battery charger

1 x Instructions / Manual
Last but not least... We have the FIREFLY 2 + Unlock full spectrum flavour with the reimagined Firefly 2+ Vaporiser.
The reinvented Firefly 2+ Vaporiser shines bright with increased airflow, updated firmware and improved battery life. Flavour is a priority, with convection heating technology and a borosilicate glass bowl and vapour path ensuring terpenes are front and centre. The device is a worthy companion for cloud chasers, with airflow increased by more than 30%. The result is thick, swirling vapour with every puff. The ultra-pocketable device maintains the classic slimline design of its predecessor, winning the Firefly 2+ points for portability and discretion. 
On-demand convection heating

Lighting fast 3 second heat up time

Borosilicate glass bowl and vapor path for purity and flavour 

Updated firmware improved battery life

Bluetooth app connection for customised operation

New airflow system for decreased airflow resistance

Compatible with dry herb and extracts 

Sleek magnesium alloy chassis

User-replaceable batteries

Fast charging in 45 minutes

Dual touch sensor activation
Available at PrtyPlanet ONLINE or Brisbane STORE at 8/8 Duncan St, Fortitude Valley. 
---